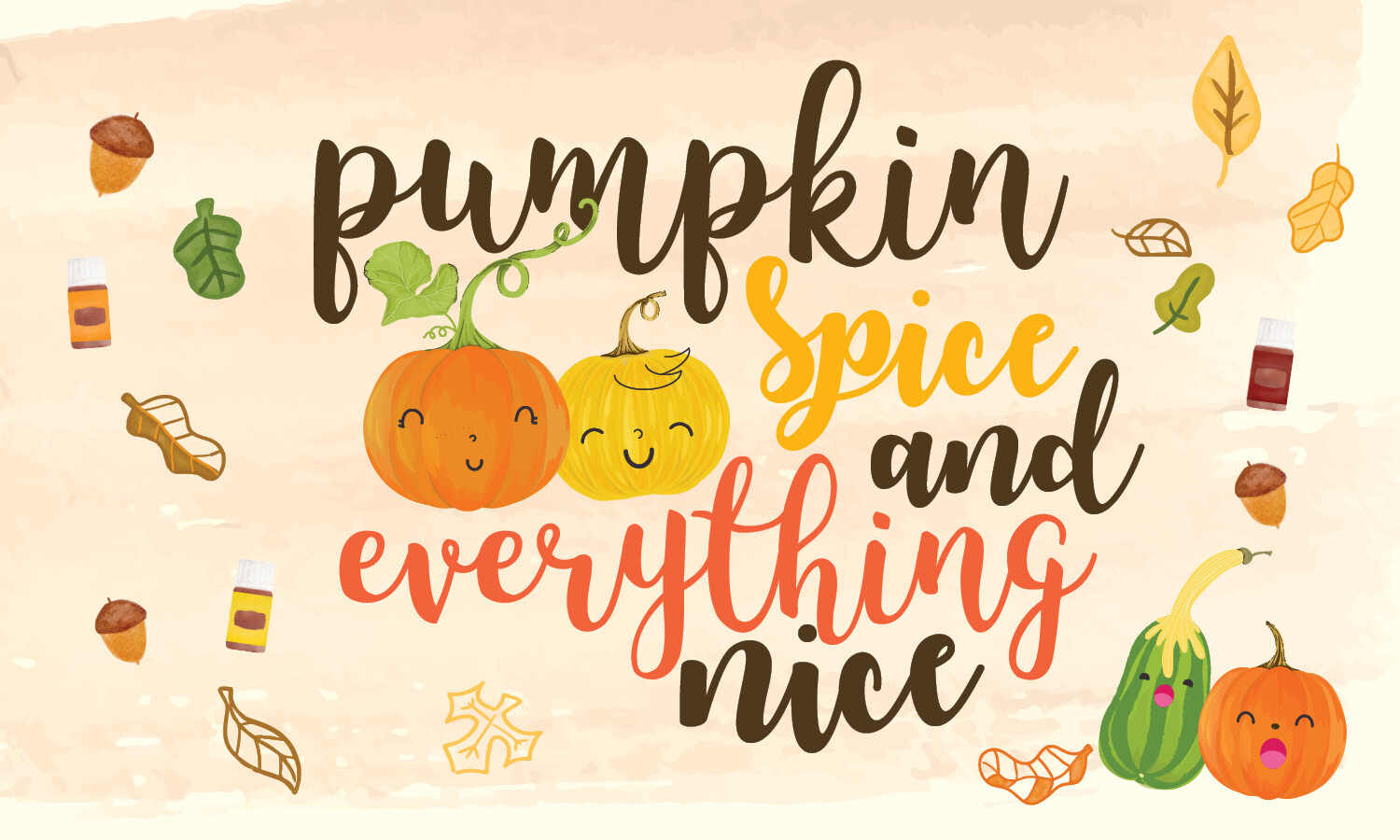 Fall brings on the crisp and often foggy mornings, the beautiful gold, orange and red leaves falling from the trees creating a soft crunch under your feet, the squirrels scurrying around gathering their winter food supply, and the deer rutting in the woods.
Fall offers us a time to renew our sense of smell with the aromas of apple pie, pumpkin pie, hot apple cider and hot chocolate. The smell of campfires and smores in the crisp fall evenings. A hike through the woods brings out the smell of the pines.
Sometimes life is too busy to bake that pumpkin pie or make that apple cider to fill your home with that delicious smell. Hopefully fall brings on some time to find a comfy chair, a blanket and book or journal and take some time to settle your mind.
When you just want to enjoy the aroma of fall, there are some easy ways to do that and customize it to your mood or activity!
1. Customize your cleaner to leave the surfaces clean and smelling like fall! Grab a 16 oz spray bottle, 2 capfuls of Thieves Household Cleaner, 10 drops Orange, 5 drops Cinnamon, and 2 drops each of Clove, Nutmeg and Ginger Essential oils. and fill with water. You can clean and make your house smell like fall in one fell swoop.
2. Make a diffuser blend in an empty bottle so you can keep your diffuser going with the smells of fall as soon as you walk in the door!. Grab an empty 15 ml essential oil bottle and add 40 drops Orange, 30 drops Cinnamon Bark, 10 drops each of Clove, Nutmeg and Ginger. Put the lid on and give it a shake, fill your diffuser with water and add 3-5 drops of your blend!
3. Refill your foaming hand soap containers with a fall scent! Grab an empty foaming hand soap container, add 2 Tbsp of unscented castile soap and 3 drops each of Cinnamon Bark, Nutmeg and Clove and 2 drops orange. Your hands will thank you if you add 1/4 tsp vitamin E oil too! Fill the remainder with water and shake to mix it up. Now everyone can enjoy the fall scents when washing their hands.
I am hosting a little gathering on October 23, 2021 to visit and make something for you to take home with you to spice up your home this fall. It's a free event and you can RSVP by
clicking here.
You will get a copy of these recipes and a few more just by stopping by.
I hope you soak up the beautiful colors, smells and sounds of fall this year. Breathe deeply, write down something you're grateful for and shine your light brightly for others.